Shopping Cart
Your Cart is Empty
There was an error with PayPal
Click here to try again
Thank you for your business!
You should be receiving an order confirmation from Paypal shortly.
Exit Shopping Cart
gluten-free food blog by tara a. murray
As of today, this is Mr. Murray's favorite dish I've made him.  This is SO easy & would be great for entertaining guests!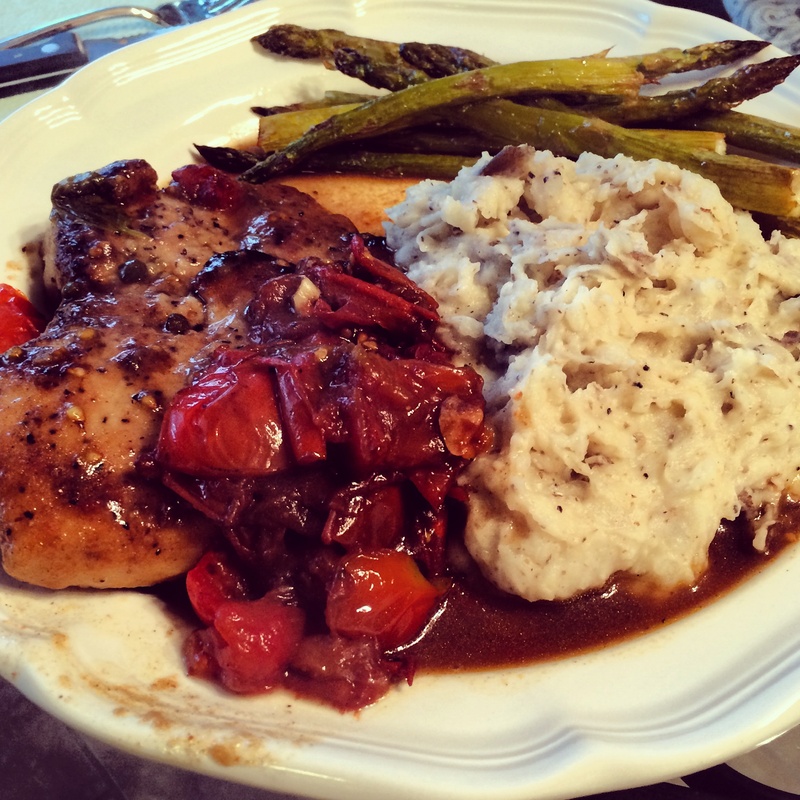 Ingredients
1/4 cup all-purpose gluten-free flour
1 teaspoon salt (or garlic salt)
1 teaspoon black pepper
4 (1-inch-thick) boneless pork chops 
1 tablespoon olive oil 
3 to 4 garlic cloves, minced
1/3 cup balsamic vinegar
1/3 cup chicken broth
4 plum tomatoes, diced (or to save time quartered and cook a bit longer*)
2 tablespoons capers
3-5 leaves fresh basil
Directions
Combine first 3 ingredients in a shallow dish; coat pork chops in flour mixture.
Cook pork chops in hot oil in a large skillet over medium-high heat 1 to 2 minutes on each side or until golden brown. Remove chops from skillet.
Add garlic to skillet, and sauté 1 minute. Add vinegar and broth, stirring for about 30 seconds to get the grease chunks to separate. Stir in tomatoes, capers & basil. Cook for 3-5 minutes depending on the size of tomato cut.
Return pork chops to skillet; bring sauce to a boil. Cover, reduce heat, and simmer 4 to 5 minutes or until pork is done. Serve pork chops with tomato mixture. This is even better the next day!
Paired perfectly with garlic mash potatoes & roasted asparagus!
Enjoy!
Mr. Murray loves gumbo. Mr. Murray loves grits. Mr. Murray loves his gluten-free wife. However this wife didn't know how to make gumbo gluten-free.  It is so easy! And it turned out great! This is a mild variation.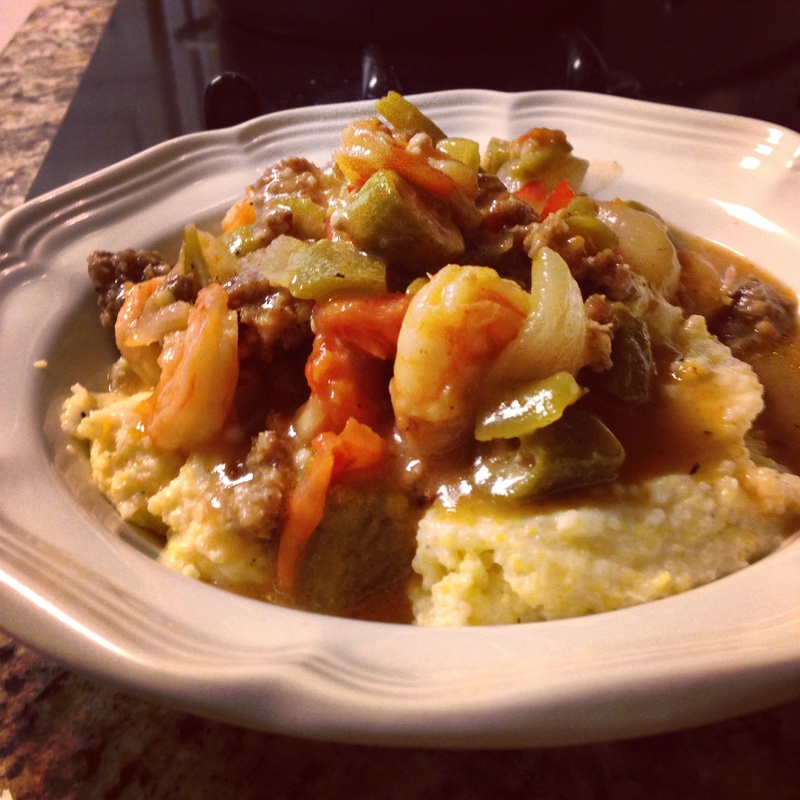 Ingredients
4 TBSP butter or 1/4 cup-ish oil
1 gluten-free sausage (Jimmy Dean's All Natural)
1/4 cup gluten-free all purpose flour (gf bisquick)
1 large onion (chopped)
1 red bell pepper (chopped)
1 green bell pepper (chopped)
3 celery stalks (chopped)
2 cloves garlic (smashed)
3 cups chicken broth (Pacific)
3 large tomatoes (quartered)
2 cups thinly sliced okra
fresh thyme
3 bay leaves
2 tsp Cajun spice (Louisiana)* you can switch this to salt
2 tsp whole black peppercorn (optional)
1 tsp chili powder
1/2 lb raw shrimp
Grits Ingredients
2 cups chicken broth
2 cups milk
1 cup grits
Directions
Heat large soup pot over medium-high heat.  Add sausage and cook until browned on all sides.  With a slotted spoon, transfer sausage onto plate.
Add butter (oil) to grease (equaling about 1/4 a cup).  Whisk in flour.  Cook over low heat, stirring constantly for 18-20 minutes, or until dark reddish-brown.
Stir in onion, bell peppers, celery stalks & garlic.  Saute over medium heat until softened (about 6-8 minutes).  Stir in chicken broth, tomatoes, okra & spices.  Bring to a boil, reduce heat to low (simmer), covered for 30 minutes.
Meanwhile: the grits!
In a large pot or sauce pan add the chicken broth and milk.  Bring to a boil on high heat.  Once it is a rolling boil, whisk in grits until well combined.  Reduce heat to low and simmer covered for 20 minutes, stirring every 3 -4 minutes.  * You may want to add more liquid in after about 10 minutes, depending on your consistency.
Back to the Gumbo:
Add shrimp into gumbo. (you can do this at 25 mintues) Once it has almost fully pinkened, stir in sausage. Cook for 4 more minutes (this is when I tell Mr. Murray, dinner is ready). Remove bay leaves.  Serve gumbo over grits. Enjoy!
My sweet Murray family had a weekend at the J-Ann Ranch. This is a quick, easy & no fuss meal that has great taste and can be cooking while you are doing other things!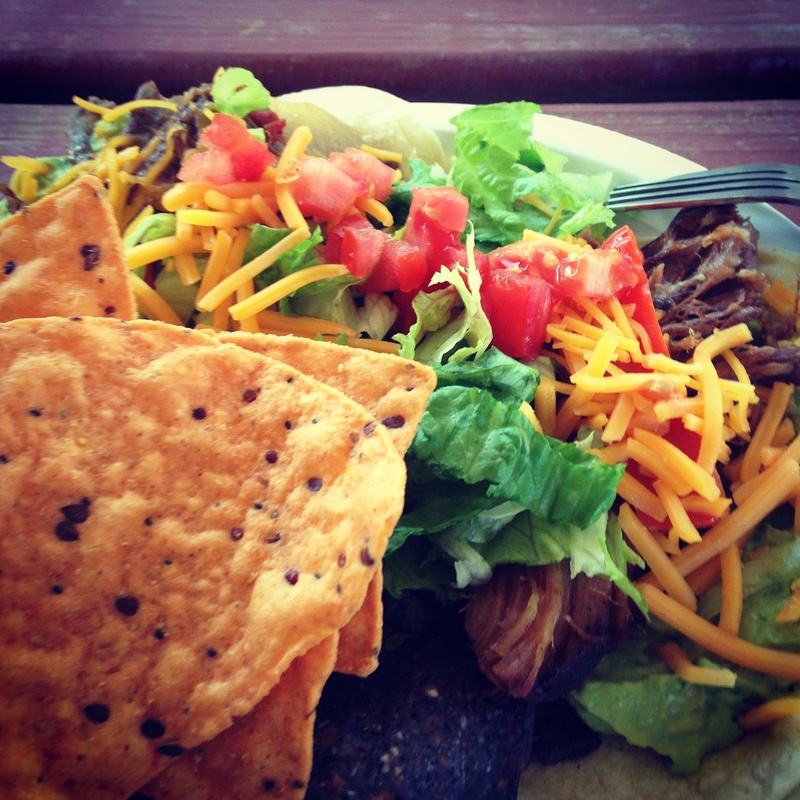 Ingredients

4 lb rump roast
1 white Onion (1 inch sliced)
1 can Mexican Lime & Cilantro Diced Tomatoes with Lime Juice & Cilantro (ro*tel)**
1 Can chopped Green Chiles (hatch)beef stock (pacific)
Dry Rub (use 1 TBSP per side)
2 TBSP garlic salt (McCormick)
2 TBSP black pepper (McCormick)
2 TBSP cayenne pepper (McCormick)
2 TBSP Mexican Seasoning (McCormick)*
 *2 tsp each Chili Pepper, Cumin, And Red Pepper, Salt, Onion, Green Bell Pepper And Garlic.


Directions
Line the sliced onions on the bottom of a slow cooker crockpot. Dry rub the rump roast and place fat side down in cooker. Pour rotel and green chiles over rump roast. Pour 1 beef broth until it is 1 inch high in the slow cooker. Place on high for 4 hours. After 4 hours, if the roast pulls a part easily, cook on low for 2 hours; or continue cooking on high.


Garnish:
Corn Tortillas (Mission)
Sour Cream (daisy)
Guacamole
Shredded lettuce
Shredded Cheese (Kraft or Sargento)
Sliced Tomatoes
Corn Chips

So Come & Get It!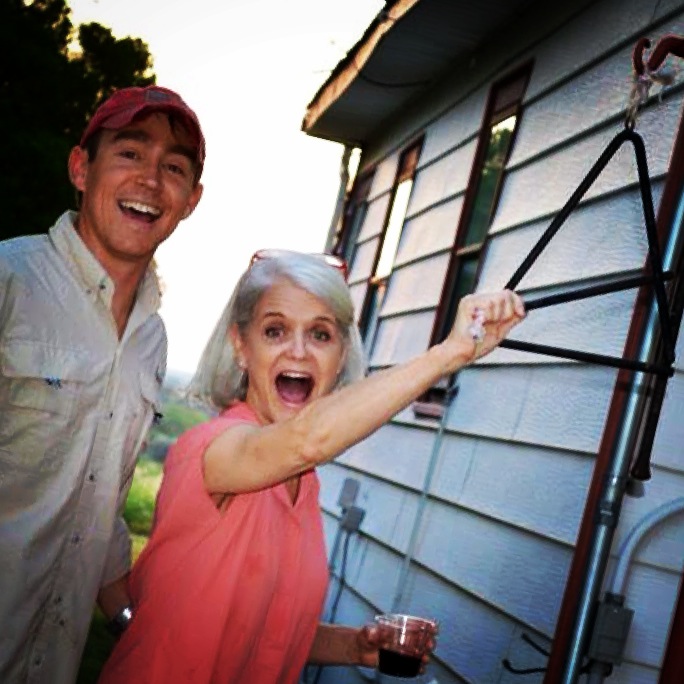 Photo Credits: Madison Murray. Featuring: Husband Murray &  Mom Murray

**Ro*tel is owned by ConAgra, as of July 2013 this can was certified gluten-free. Always check ingredients prior to purchase or consumption.

Mr. Murray and I had an 18 hour car ride to Florida.  What's a gluten-free girl to do for food?!  These next few posts will be traveling gluten-free.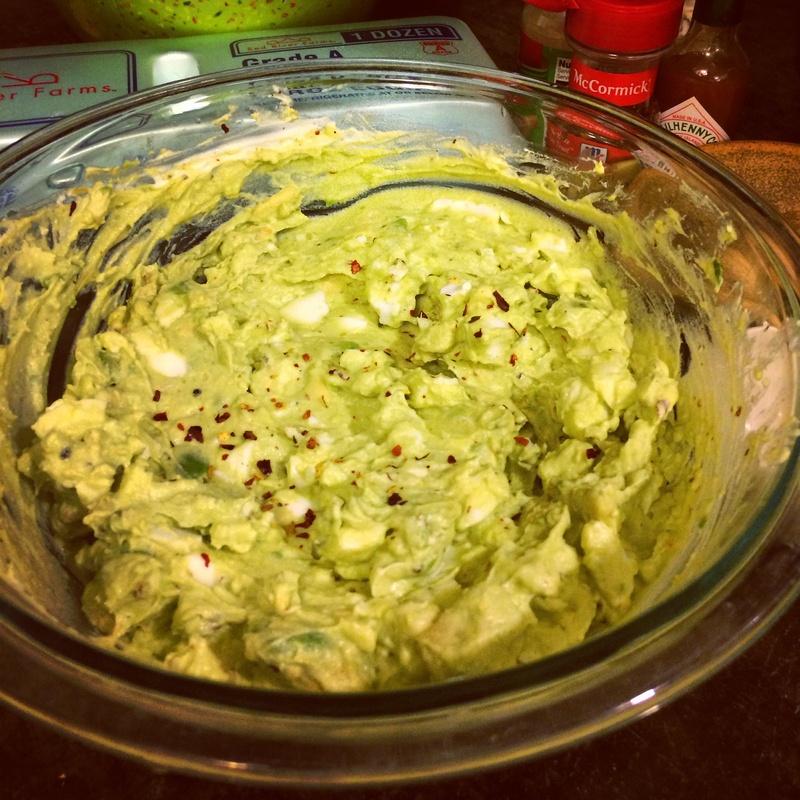 Ingredients
6 Eggs
1 large avocado 
3 T yogurt
1 tsp garlic salt
tsp pepper
12 drops of tobasco (or 1 tsp)
1 tsp red pepper flakes
Directions
In a medium-large bowl, mash all ingredients together until well combined.  Add more or less spices to taste. 
Use for sandwhiches, crackers, carrots...or I just put it on top of pizza.  Yes, it is SO good on gluten-free pizza.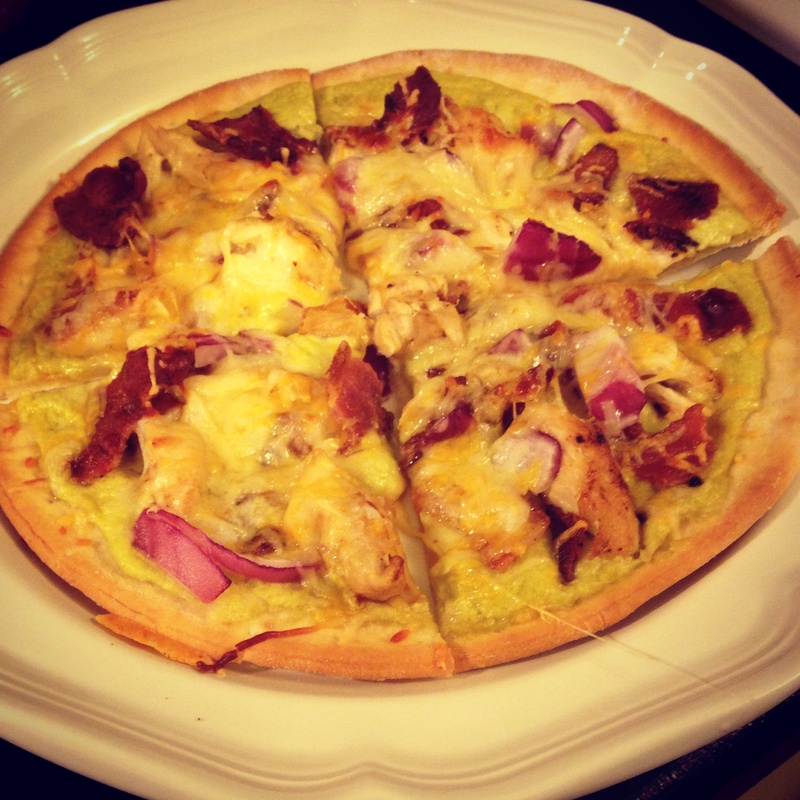 Ingredients
Gluten free pizza crust*
1/4 cup - 1/2 cup Green Chile Pesto
4 Chicken tenderloins
1 tsp Cayenne pepper
1/4 red onion (chopped)
4 pieces of bacon (cooked & cut into about inch thick)
1 cup parmesan cheese (or sharp cheese, mozzarellla)
Directions
Preheat oven to 425 F.
Heat oil in a saute pan on medium high heat.  Add spice & turn down to medium heat.  Then add chicken Tenderloins and cook on each side 6 to 8 minutes (or no longer pink, you can go ahead and cut them into bite sized pieces to make sure it is cooked through.  Set aside.
Place foil over cookie sheet and set pizza crust on foil.  Evenly spread green chile pesto over entire crust.  Evenly sprinkle onion, cooked chicken, bacon pieces, red onion.  Top with parmesan cheese and cook for 8 to 12 minutes. (Or until pizza crust edge is golden brown and cheese is melted thoroughly!)
I have never utilized green chiles so much in my life until I became Mrs. Murray.  Mr. Murray loves green chiles and I have loved incorporating them into my recipes.  Tonight is green chile pesto!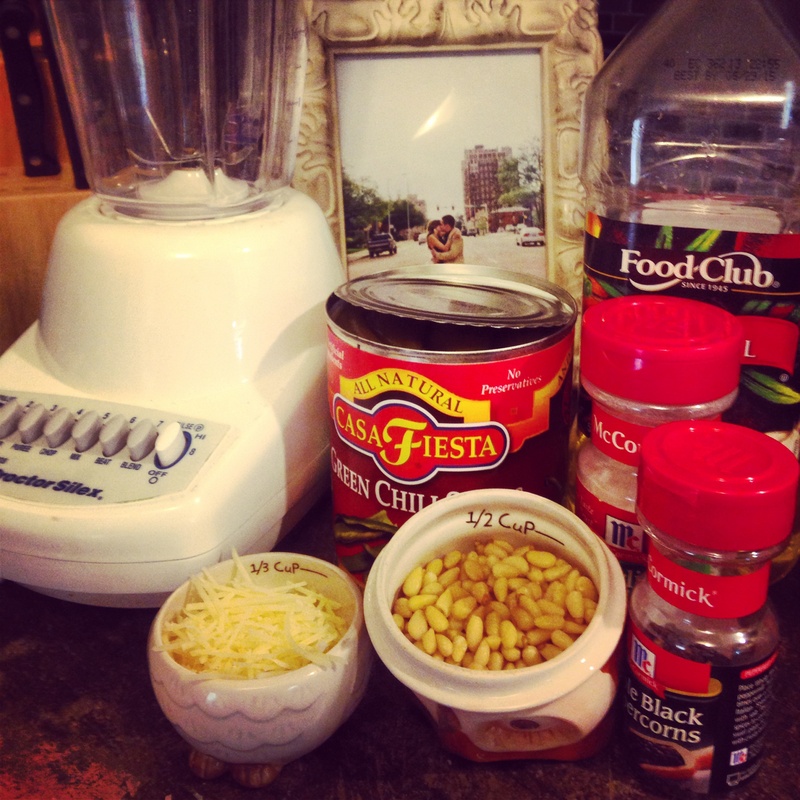 Ingredients
2 cups whole green chile (can)
1/2 cup toasted pine nuts (or almonds)
1/3 cup parmesan grated cheese
1/4 cup olive oil
1 tsp garlic salt (or to taste)
1 tsp pepper (or to taste)
Directions
Combine green chiles, pine nuts & parmesan cheese in a blender & pulse 3 times. Add the oil & puree until well blended.  Add spices to taste.
Serve with chips, carrots or bell peppers!
OR use it as a garnish on meat, saute veggies ... or... coming soon Green Chile ....
For those living in the Amarillo area, "Amarillo Magazine' does a great job each month spotlighting our wonderful city, sites and community. It was an honor and privilege working with them to do a gluten-free spotlight!
I will post these recipes on here, but first, you must check it out here! From glutenfree french bread, fried chicken and cinnamon rolls, you can't beat these tasty recipes by Eat Drink & Be Murray! Thanks to Amarillo Magazine for platforming the awareness for celiac disease & a gluten-free lifestyle.  It's not about what you CAN'T eat, but what one CAN eat!!!
Photo by Shannon Richardson recipes courtesy of Tara Murray.  
Amarillo Magazine
/