Shopping Cart
Your Cart is Empty
There was an error with PayPal
Click here to try again
Thank you for your business!
You should be receiving an order confirmation from Paypal shortly.
Exit Shopping Cart
gluten-free food blog by tara a. murray
I know many are cooking for Thanksgiving! I will be posting many recipes, later this week; however, here is a simple Thanksgiving stuffing for those that don't have time to labor over bread(s) from scratch.
Ingredients
1 8x8 pan cornbread (Bob Red Mills (follow Recipe)
5 bread rolls (pamela's) or 2 slices of bread toasted (Udi's)
1 /2 stick butter or 1/4 olive oil
1 cup celery chopped
1/2 onion or whole onion if small, chopped
2 Tablespoons sage (McCormick)
2 teaspoon thyme (McCormick)
1 tsp salt (kosher)
pepper to taste (McCormick)
2 eggs
2 1/2 cups or more of Chicken broth (Pacific-low sodium)
Optional: 1/2 cup carrots, 1/2 cup walnuts** add to onions and celery after softened
Directions:
Cook cornbread and rolls or bread. Crumble into mixing bowl. Melt butter or oil in skillet. Saute onions and celery til softened.** Add a little of seasonings to celery mixture and rest of seasonings over cornbread. Mix cornbread and then pour celery/onion mixture over cornbread and mix. Taste, add more seasoning just a tad at a time til just right.
Lightly beat eggs and mix in. Add chicken broth a little at a time until moistened to desired consistency.
Pour into buttered baking pan and refrigerate.
Bake at 350 degrees (F) next day 30-minutes or so until bubbly. Pour more broth over if needed as it cooks if it looks dry.
Quick, easy and a crowd pleaser! The panhandle is a great area to grow fresh basil too!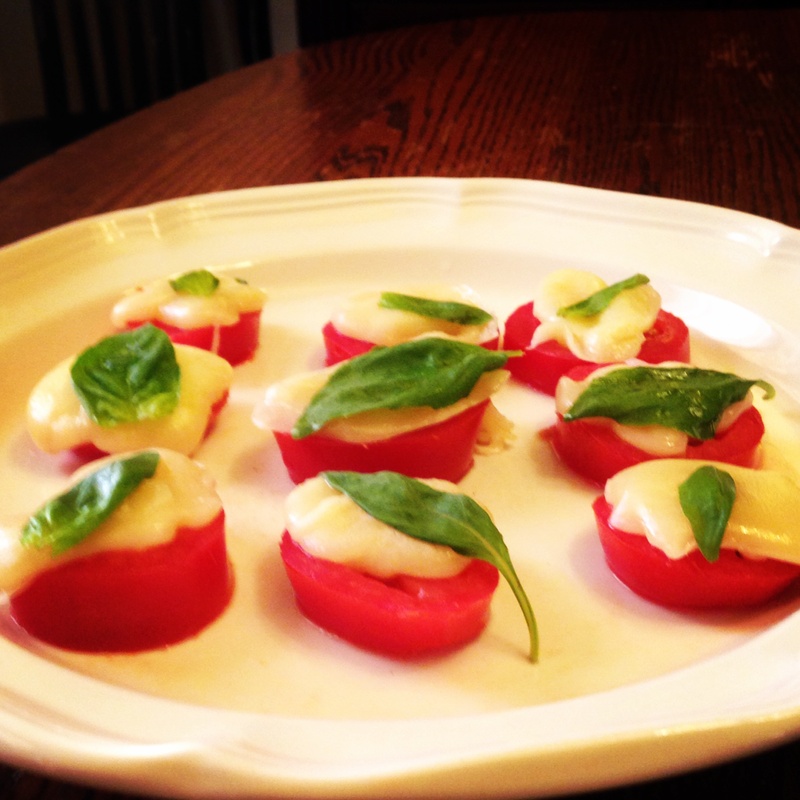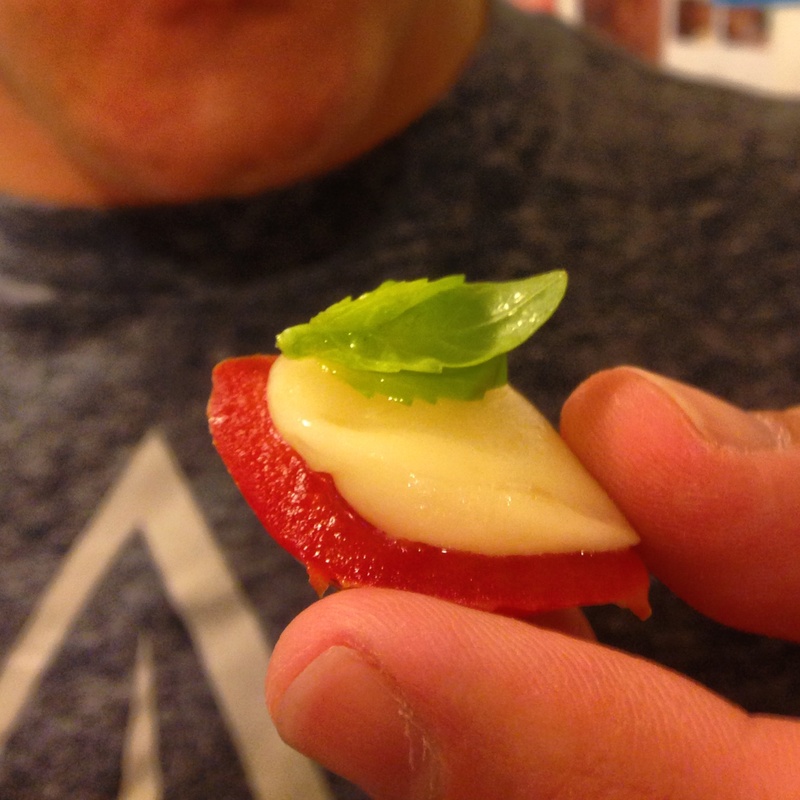 Ingredients
1 package (16 oz) fresh mozzarella  (thin slices about 1/4 inch

3 tomatoes (thin slices evenly about 1/4- 1/2 inch thick)

25-30 basil leaves (one per tomato)
olive oil (optional)
balsalmic vinegar (optional)
Directions
Arrange alternate slices of tomato & mozarella; topping with a basil leaf.  Dirzzle oil & vinegar.
So easy, so good & so gluten free!
I have never utilized green chiles so much in my life until I became Mrs. Murray.  Mr. Murray loves green chiles and I have loved incorporating them into my recipes.  Tonight is green chile pesto!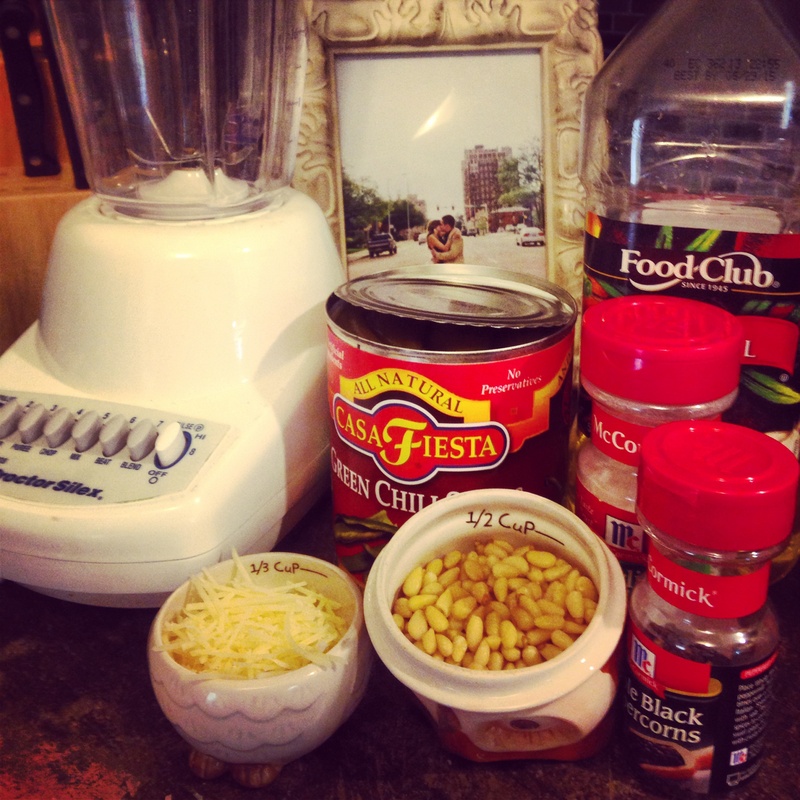 Ingredients
2 cups whole green chile (can)
1/2 cup toasted pine nuts (or almonds)
1/3 cup parmesan grated cheese
1/4 cup olive oil
1 tsp garlic salt (or to taste)
1 tsp pepper (or to taste)
Directions
Combine green chiles, pine nuts & parmesan cheese in a blender & pulse 3 times. Add the oil & puree until well blended.  Add spices to taste.
Serve with chips, carrots or bell peppers!
OR use it as a garnish on meat, saute veggies ... or... coming soon Green Chile ....
If you are in the mood for tilapia,  check out this recipe on the blog.  However, this is one that is quick, easy and perfect for those on the go occassions.  Mr. Murray & I had "Take Out Tuesday" with his family and I didn't have time to cook.  This is a recipe that happens when you need to get ready, so you yell at your husband to assemble ingredients, that we will prep once we are at his parents.  Surprisingly it was a hit!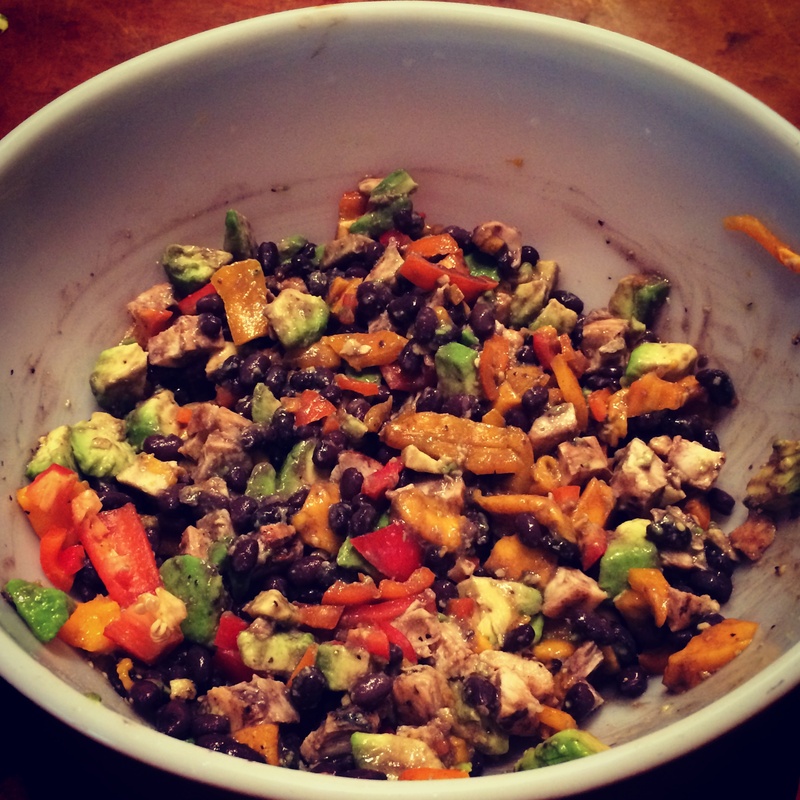 Ingredients
1 can of black beans (drained)
1 mango (chopped)
2 mini red bell peppers (1 large) (chopped)
2 mini orange bell peppers (1 large) (chopped)
2 mini yellow bell peppers (1 large) (chopped)
1 large avocado (chopped)
2 cups grilled chicken (John Soules Food) (or 2 chicken breasts, cooked & chopped)
1/2 or 1 TBSP cumin (to preference)
1 tsp garlic salt (1/2 tsp salt, 1/2 tsp garlic)
1 tsp black pepper
Gluten-free Blue Chips
Directions
Heat the chicken in the microwave on HIGH for 1-2 minutes.  Chop the chicken.  Combine blackbeans, mango, bell peppers, avocado, chicken in a large mixing bowl. Add spices and mix thoroughly.  Pair with blue chips and enjoy!  This is a recipe that you really can mix and match!
Servings 3-4.
Mr. Murray and I can't quite figure out what to call these, but we do know they are yummy! Tonight we had tapas, and it was the perfect addition to our meal!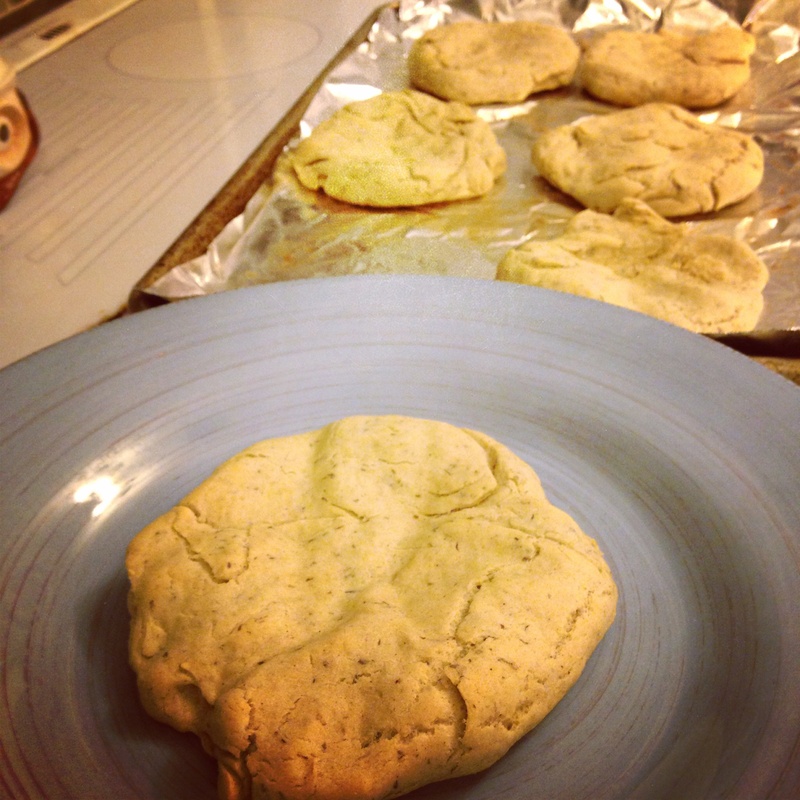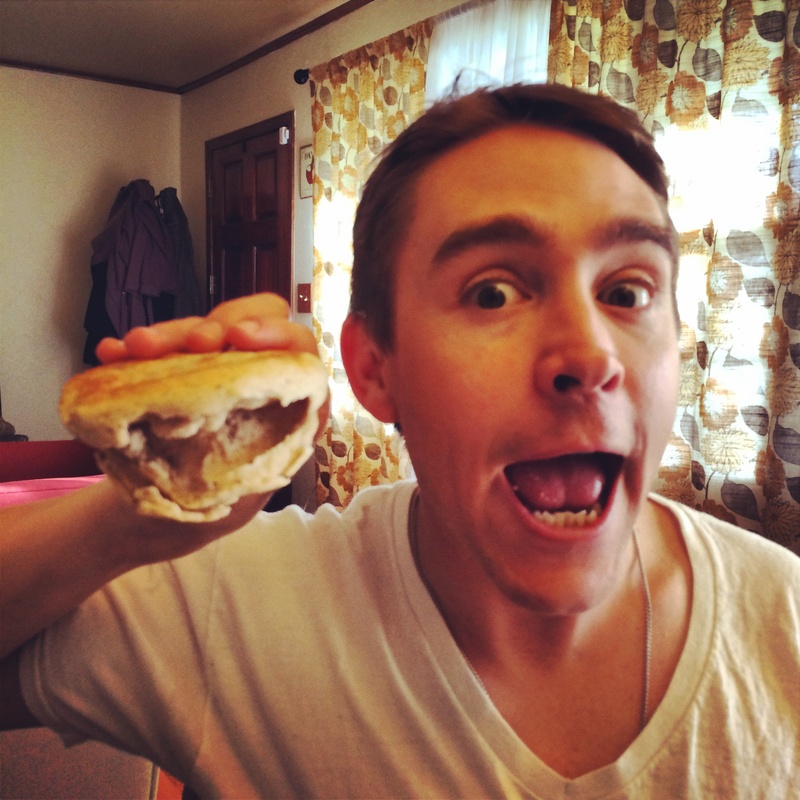 Dry Ingredients
1/4 cup tapioca flour
1 3/4 cup gluten free flour (Arrowhead Mills)
2 TBSP ground flaxseed meal
1 tsp baking powder
1 tsp xanthum gum
1 tsp salt
Wet Ingredients
1 egg + 1 egg white (lightly beaten)
1 TBSP oil
1/4 cup milk (warmed)
3/4-1 cup water (warm)
Directions
Preheat oven to 425 Degrees F.  Place cookie sheet or pizza stone on lower rack.
In a large stand mixer combine, or sift, the dry ingredients. Mix-in the eggs, oil & milk.  Gradually add the water. Mix with the paddle handle on high for 3 minutes.  Spoon onto oiled foil.  Use the oil or water to form into balls and then smash them until 1/2 inch thick, leaving the edges a little higher.  Cook on warmed cookie sheet on the middle rack for 8-10 minutes.
Now is the fun part, when serving open up the top layer and there is a perfect 'pocket' opening!
Alternative: add 1/2 cup sharp cheees when adding the eggs, oil & milk. Or 1 TBSP oregano in dry ingredients!
This is as simple as one, two, three... & so tasty. Great by itself or on top of some quesadillas!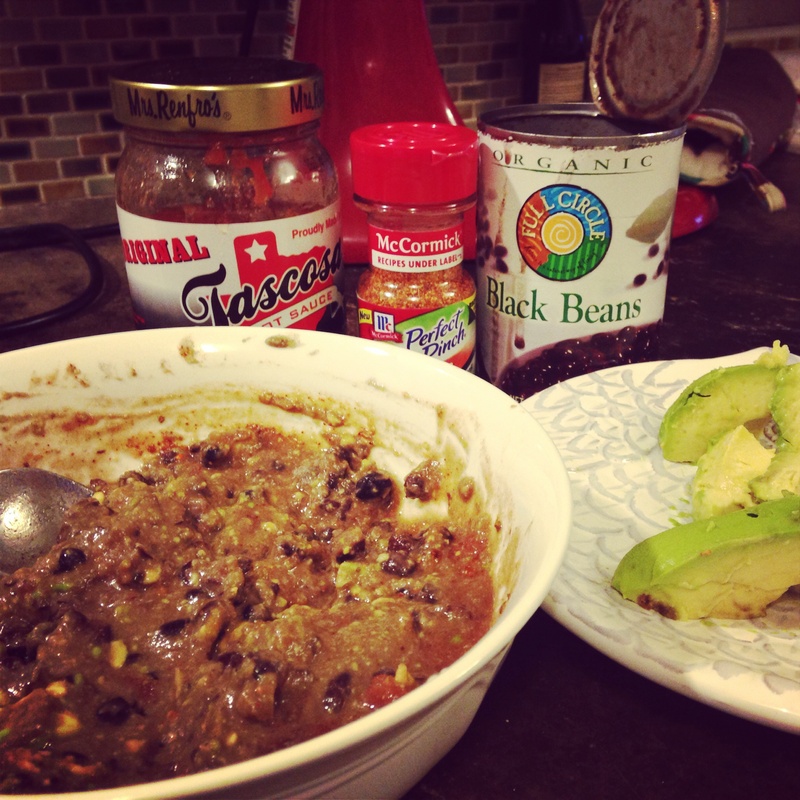 Ingredients:
1 can blackbeans 
1 cup Salsa
1 avocado 
2 TSBP McCormick Perfect Pink Mexican Seasoning
(If you don't have it 2 tsp of the following: chili pepper, garlic, onion, cumin
Directions:
Mash blackbeans & avocado in a medium-sized bowl.  Add salsa & seasoning(s) and mix well.  Grab your favorite gluten free blue chips and dig in!
We spent Easter with Mr. Murray's family today! I was in charge of salad.  Now I'm not a 'salad' fan, but I do LOVE all the toppings.  This is almost too pretty to eat! (But be sure to try it, it's salad...so no calories right?)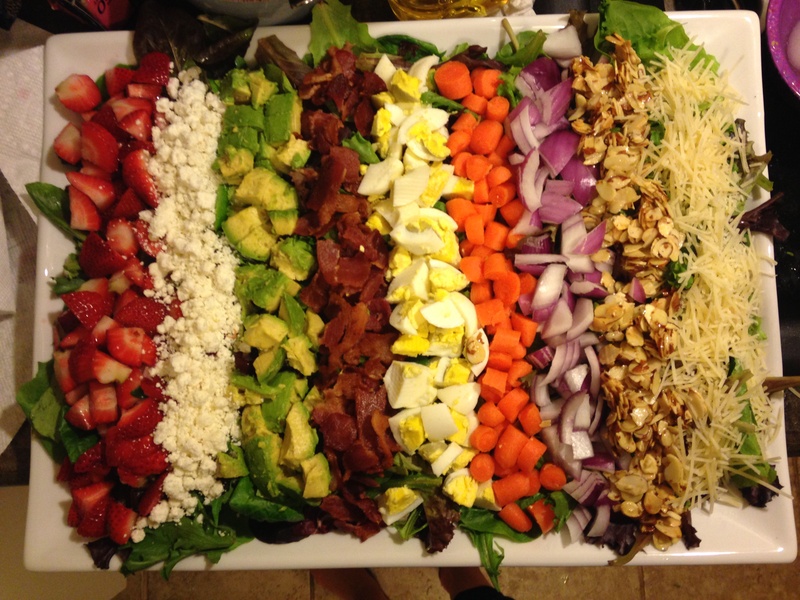 Ingredients
1 bag prepared salad greens
1 pound strawberries, cubed
1 package Boar's Head gluten-free bleu cheese
1 to 2 avocados, cubed
4 boiled eggs, sliced
3 to 5 long carrots, sliced
½ large red onion, diced
1 to 2 cups grated Parmesan cheese
Bacon, cooked and crumbled (Reserve bacon grease for dressing.)
1 to 2 cups honey almonds
Honey Roasted Almonds
2 cups raw, unsalted almonds
1/4 to 1/2 cup honey
1/4 cup oil
Wax paper
Bacon-Strawberry Vinaigrette
1/4 cup bacon grease (or measure out bacon grease and fill remaining space with olive oil)
1/4 cup strawberry preserves
1 tablespoon vinegar (balsamic, raspberry or apple cider)
1 to 2 teaspoons mustard
1/2 teaspoon pepper, or to taste
Directions
Place greens on large plate or platter. Line ingredients in rows on top of salad. Prepare dressing: whisk together strawberry preserves, vinegar, mustard, pepper and a little bacon grease until well blended. Gradually whisk in remaining bacon grease; mix well. For almonds, preheat oven to 500 degrees. In small bowl, mix honey and oil. Add almonds and let sit for 10 minutes. With slotted spoon, remove almonds to lined cookie sheet (oil-honey doesn't have to be fully strained, just not swimming). Roast for 10 minutes. Cook time is complete when almonds are golden brown; remove immediately from pan so almonds don't stick. For crunchier almonds, turn on broiler and place roasted almonds on top rack for 3 to 5 more minutes. Immediately transfer to gluten-free wax paper.
Makes 4 servings
/