Shopping Cart
Your Cart is Empty
There was an error with PayPal
Click here to try again
Thank you for your business!
You should be receiving an order confirmation from Paypal shortly.
Exit Shopping Cart
gluten-free food blog by tara a. murray
What is fall without pumpkin? What's fall without eating pumpking baked goods! These cookies are wonderful and confession, Mr. Murray and I have used these as our morning breakfast cookie for the last two weeks! For a sweeter tooth, add a powdered sugar icing, but we thought they were perfect without it!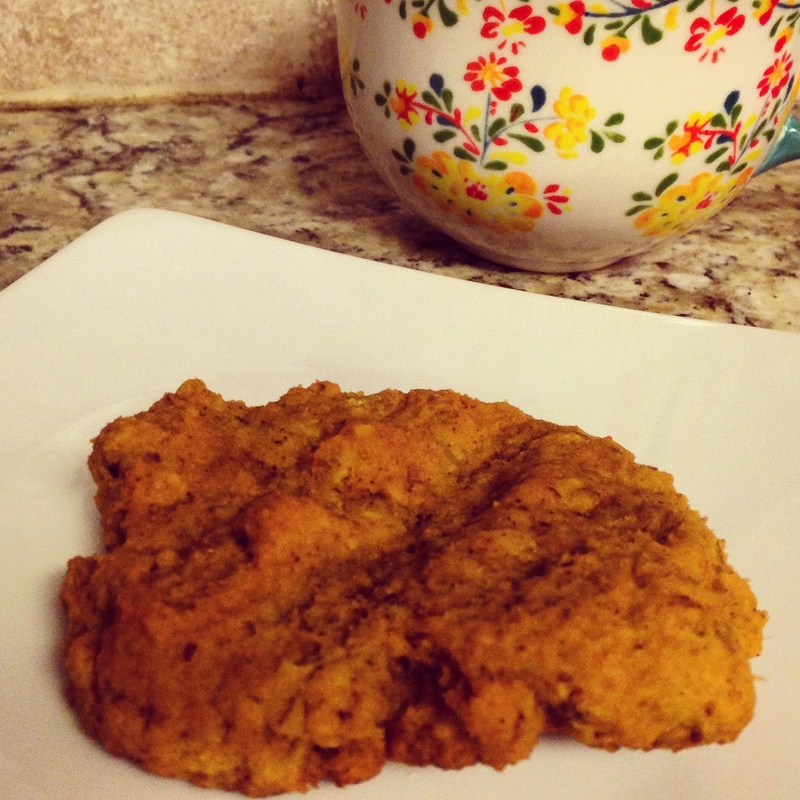 Ingredients:

2 cups Gluten-free all-purpose flour
1 1/3 cups rolled oats (Bob Red Mills)
1 teaspoon baking powder
1 teaspoon baking soda
1 teaspoon xanthum gum
1 1/2 teaspoons ground cinnamon
1 teaspoon ground ginger
1 teaspoon pumpkin pie spice
1 teaspoon fine kosher salt
2 sticks (8 ounces) unsalted butter, at room temperature
1 cup packed dark brown sugar
3/4 cup granulated sugar
1 large egg, at room temperature
1 teaspoon vanilla extract (McCormick

1 (15-ounce) can pumpkin purée

Optional Icing:
1 1/2 cups powdered sugar, sifted
3 tablespoons water or milk
Directions

Heat the oven to 350°F. Line 2 baking sheets with foil paper; set aside.
Whisk the oats, gluten-free flour, baking powder, baking soda, xantham gum, cinnamon, ginger, pumpkin pie spice and salt in a medium bowl; set aside.
In a large mixing bowl, place the butter and sugars and using a paddle attachment beat on medium speed until lightened in color and fluffy, about 5 minutes. Stop the mixer and scrape down the paddle and the sides of the bowl with a rubber spatula.
Add the egg and vanilla, return the mixer to medium speed, and beat until well combined, about 30 seconds. Stop the mixer and scrape down the paddle and the sides of the bowl.
With the mixer on low speed, add half of the reserved flour mixture and mix until just incorporated. Add half of the pumpkin and mix until just incorporated. Repeat with the remaining flour mixture and pumpkin.
Using a spoon or table spoon, drop the dough on the baking sheet. With a clean hand smash each cookie, or use a fork, so that it is about a half inch in height. *Store remaining dough in the refrigerator until it's time for the next batch!

Bake for 22-25 minutes, or until the cookies are golden brown.

Cool & Enjoy

These are simply divine.  One of my 'poor pity' me moments after being diagnosed with celiac was when I'd walk into a certain airport and there was the amazing, intoxicating smell of Cinnabon.  I'd waft and then walk away eating dry fruit that I had deydrated prior to my trip.  Well no more do I 'pity' myself.  My only problem is not eating the entire pan after I make these.
Amarillo Magazine did a quick video, so if you are more visual click here.
photo by Shannon Richardson @ Amarillo Magazine
Ingredients
Proof yeast:
1 package yeast
1/4 cup sugar
2/3 cup warm milk
1 tablespoon melted butter
Dry ingredients:
1 1/2 teaspoons xanthium gum
1/2 teaspoon baking soda
1/2 teaspoon salt
1 cup Arrowhead Mills gluten-free all-purpose baking flour
1/4 cup tapioca
1/4 cup almond flour
2 tablespoons ground flaxseed meal (optional)
Wet ingredients:
1 egg
1/4 cup oil
1 1/2 teaspoons vanilla
Filling:
1/2 cup brown sugar (brown for maple taste or use white sugar)
1/4 cup cinnamon, or to taste
Icing:
3 to 5 tablespoons butter
3 tablespoons softened cream cheese
3/4 cup powdered sugar
1 teaspoon vanilla
2 to 4 tablespoons milk or water (optional)
Directions
Grease and lightly flour pie plate with rice, all-purpose gluten-free, tapioca flour or corn starch. Cover an 11-by 13-inch cutting board or bottom of cookie sheet with plastic wrap. Dust with thin layer of tapioca flour. Preheat oven to 350 degrees. Combine yeast and sugar in large mixing bowl. Microwave milk and 1 tablespoon butter until warm; whisk into sugar-yeast mixture and set aside. In medium-size bowl, sift or whisk in all dry ingredients; set aside. In small bowl whisk together wet ingredients; add to proofed yeast. Mix briefly; slowly add flour mixture. Turn mixer on medium-high and beat for 1 ½ minutes (no more than 2 minutes).
Place combined dough on prepared surface and add another layer of plastic wrap. Roll out dough to about ¼ inch thick; it should cover entire board. You can now wrap dough, place in refrigerator, and finish rolls the next morning. Or, peel off top layer of plastic and spread softened butter onto dough, leaving a ½-inch untouched edge. In small bowl, combine brown sugar and cinnamon. Sprinkle mixture over butter. Use plastic wrap as a guide and begin rolling dough back toward opposite side (watch plastic wrap so it doesn't get stuck). Roll tightly, then dust with gluten-free flour. Cut into 8 pieces; place into greased pie plate.
Let rise for 15 minutes. Meanwhile, beat butter, cream cheese and powdered sugar until smooth. Add in vanilla. For thinner icing, add 2 to 4 tablespoons milk or water. Cook rolls for 25 to 27 minutes or until golden brown. Ice immediately.
Makes 8 servings
Mr. Murray and I spent Memorial Day at my family's Ranch. Sausage, Biscuits & Gravy is a must for the perfect hearty breakfast. No more are the days where the gluten-free people have to grab their banana and dream of the days of old. This is the perfect recipe. (Excuse the over-easy egg, we were too excited and hungry to take a pic)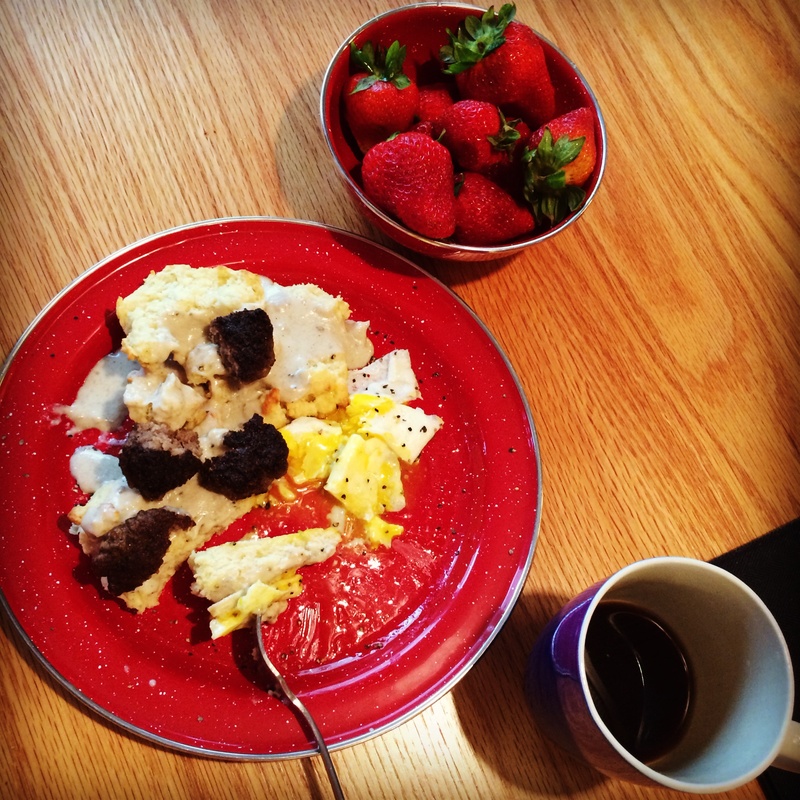 Ingredients
1 cup gluten free Betty Crocker Bisquick
1 cup Pamela's gluten-free Bread Mix **What do to do with the rest
1/3 cup butter (room temperature)
2/3 cup milk
3 eggs
Directions
Heat oven to 400 F.  Combine the flours thoroughly. Cut BUTTER into mix. Stir in remaining ingredients until soft dough forms. Drop by spoonfuls onto ungreased cookie sheet. Bake 13-16 minutes or until golden brown. Makes 10 biscuits.
**Keep this flour as an all-puropse flour and use the yeast for another recipe! Or if you are feeding more than four, double the recipe & use the leftover of Pamela's flour for gravy).
Sausage:
Make your sausage patties approximately ½ inch thick. Place on skillet (preheated on medium).  Cover and cook 5-7 minutes, and turn patty over.  Continue cooking another 5-7 minutes, or until juices run clear (no pink).
Set aside. Keep grease & skillet for gravy!
Gravy:
2 tablespoons butter
3 tablespoons gluten-free flour (arrowhead & tapioca)
1 to 2 cups milk
Turn heat down to low simmer and briefly remove pan from heat. Immediately put 2 tablespoons butter into grease.  Add 3 tablespoons flour; whisk constantly until it's pasty.  As you whisk, transfer frying pan back onto low heat right after you add in flour. Slowly and gradually add in milk, whisking constantly for 5 to 10 minutes. (By gradually adding milk, lumps will not form.) Whisk until thickened. If gravy is too thick, add more milk. If it's too thin, in a separate cup add 1 tablespoon flour to 2 tablespoons warmed milk and whisk until pasty then add to gravy. Add a dash of salt and pepper to taste and serve immediately.
Yes... You heard it correctly...pumpkin and black bean together! A local restaurant features this during the fall, and I was done living vicariously through people!  It was time to dive in and make my own!  I was shocked on how tasty it was; try it with sauted peppers, avocado and blue chips (or a gluten free bun.) 
AND what was even better; this is great for leftovers the next morning! Use veggies, pbb patty for the middle of an omelet for a fancy breakfast!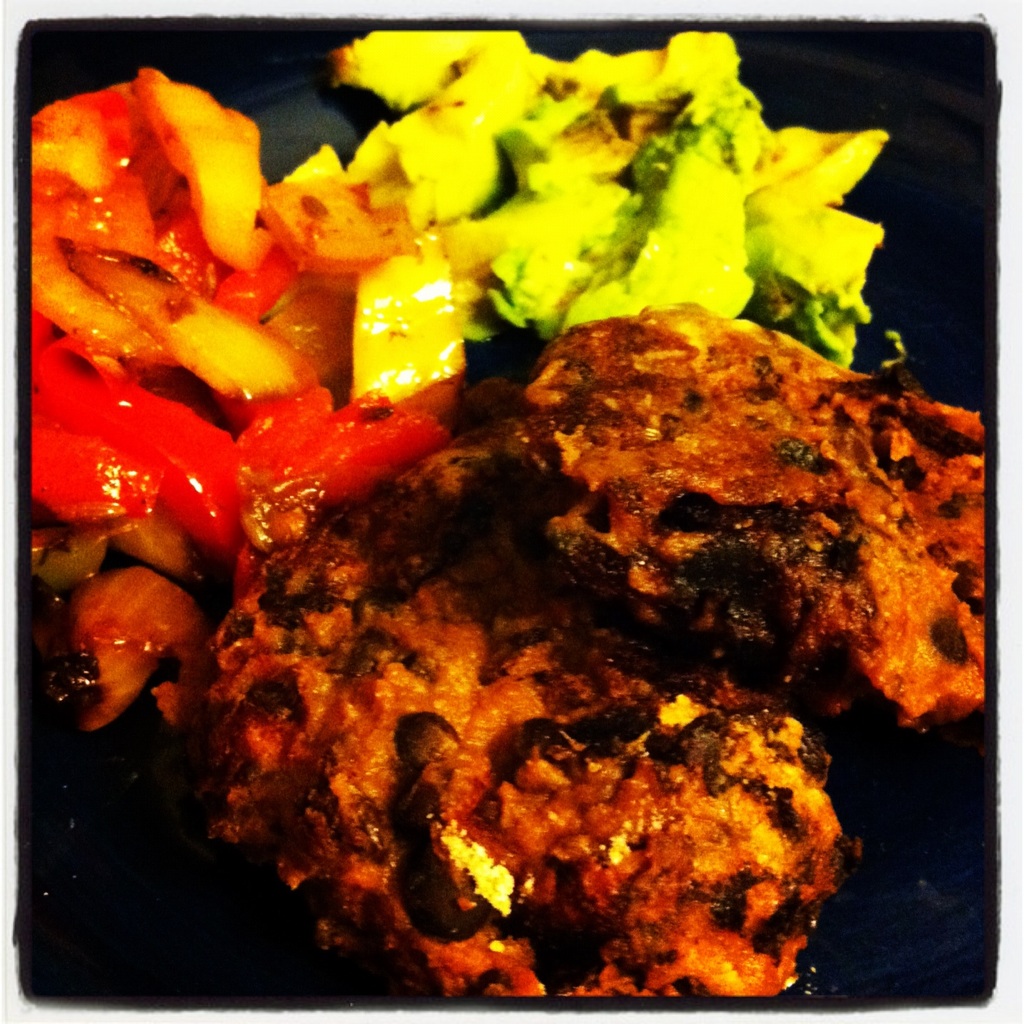 Ingredients 
1 can pumpkin (ingredients should say: pumpkin
2 can black beans (full circle or read ingredients)
3 TSBP gluten free flour blend
1/2 tsp cumin (McCormick)
1/4 tsp garlic powder (McCormick)
1/4 chili powder (McCormick)
1/4 tsp fennel (McCormick)
1/4 tsp onion powder (McCormick)
1/4 tsp chipolte chili pepper powder (McCormick; optional)
olive oil
Directions
Combine all ingredients in a bowl and mash it together.  Once mashed, form into patties (you may need to roll in it some gluten free flour to help with the consistency.  Cook in a skillet (wax a bit of olive oil evenly in skillet) on medium to medium high heat cook each patty for a couple of minutes on each side (about 3-4 minutes each)
Grab your saute veggies, avocado and blue chips; and you have a gourmet meal!
Mindless Pumpkin Bread
Remember those pre-gluten free days, when you could just whip something up in no time?  Well, now you can!  Thanks to Betty Crocker, this is simple, mindless and a crowd pleaser.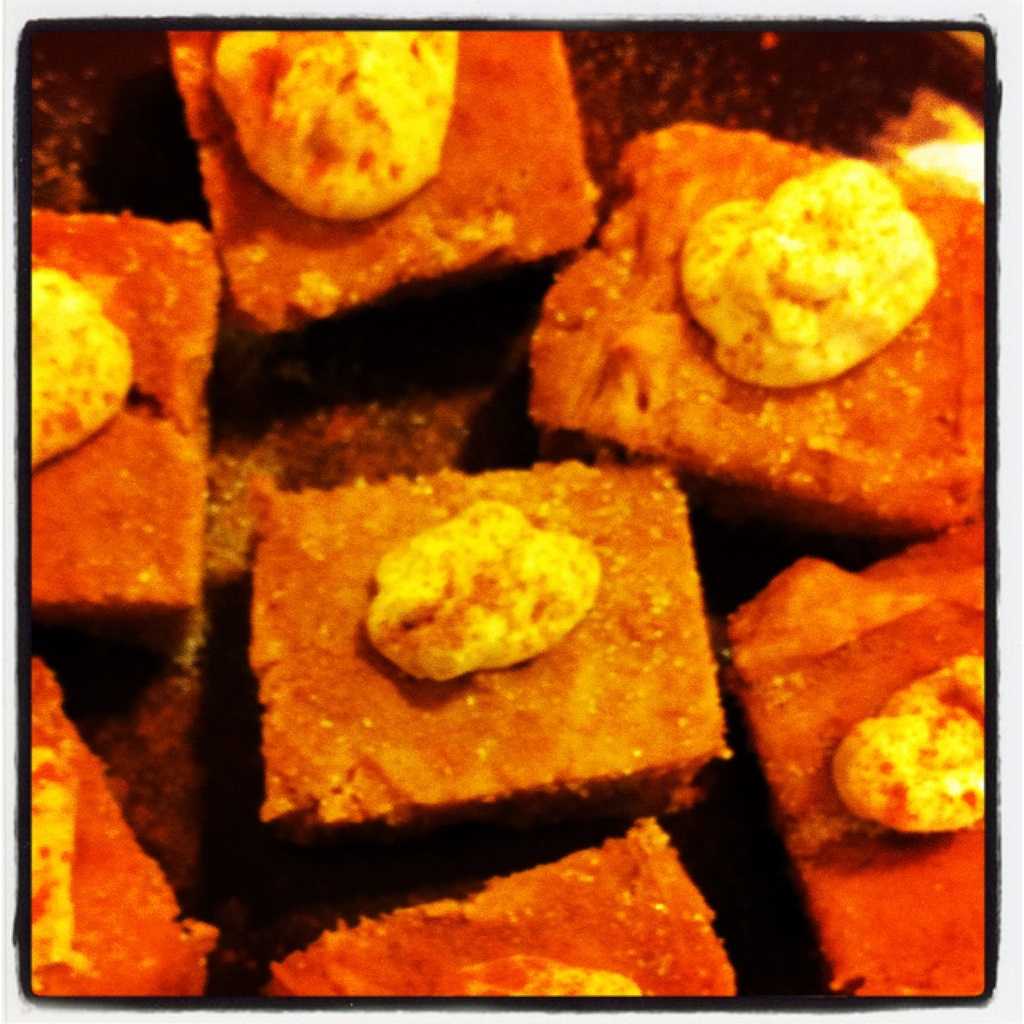 Ingredients
1 package Betty Crocker Cake Mix
1 (15 ounce) can pumpkin
1 Table spoon of Cinnamon, pumpkin spice, sugar (optional)
Directions
Preheat the oven to 350 degrees F. Generously grease a 8x11 inch baking pan.
In a large bowl, mix together the cake mix, spices and canned pumpkin until well blended. Spread evenly into the prepared pan.
Bake for 25 to 30 minutes in the preheated oven, or until a knife inserted into the center comes out clean. Cool and serve, or store in the refrigerator. 
Dollop Cream Cheese Frosting from Brownie Parfait.
Side note: This is not very sweet. After you bake it sprinkle sugar crystals for extra taste and aesthetic appeal
Fig Newtons
For the last two years, I've made my dad gluten free- sugar free fig newtons for his Valentine gift.  No matter how many men come and go in my life, I will always have him as my Valentine.  Enjoy this easy, fun YUMMY recipe.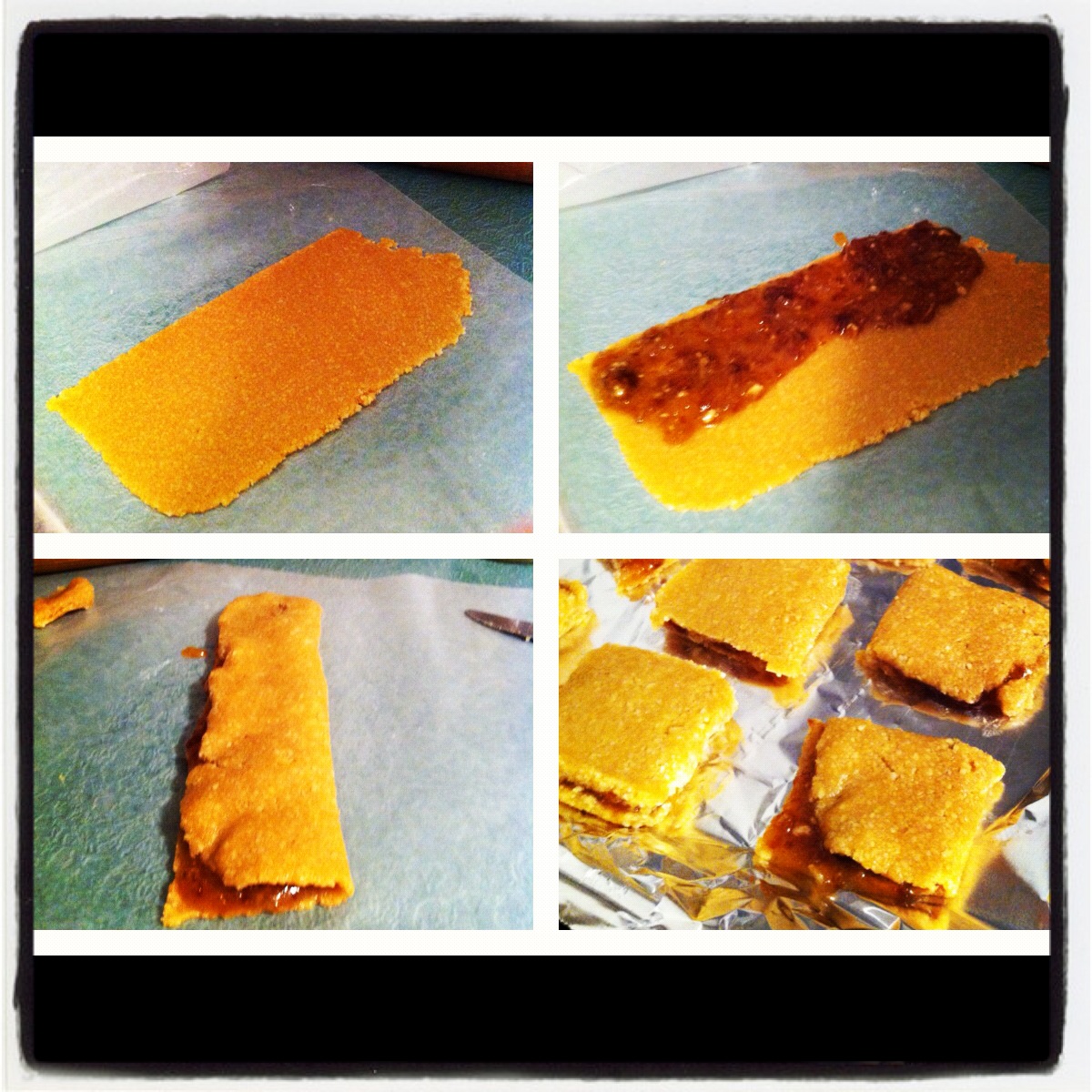 Ingredients
Filling: if you can't find figs, find the alternative recipe using preserves below
1 cup dried figs
1 bag Pitted Dates 
1/4 cup pecans
½ cup lemon juice, freshly squeezed
1 tablespoon vanilla extract
Dough:
1 ½ cups blanched almond flour
1 cup Coconut flour
½ teaspoon celtic sea salt
½ cup agave nectar (1/2 cup Splenda for sugar free*)
¼ cup Coconut nectar (supposedly yacon syrup works, but I've never been able to find it)
¼ cup Oil
1 tablespoon vanilla extract
Directions
Place figs, dates & nuts in a food processor and blend for 30 seconds until they are well chopped.  Add lemon juice and vanilla; process until a smooth paste develops.  In la arge bowl, combine flour, salt (& splenda if not using agave nectar).  In a smaller bowl combine agave (unless using splenda) coconut nectar, oil & vailla.  Mix wet ingredients into dry.  Refigerate for at least 1 hour.
Divide chilled dough into 4 parts.  Between 2 pieces of parchment paper, roll out 1 part of the dough into a 10 x 4 inch rectangle, ¼ inch thick
Spread ¼ of the filling evenly down the right side (lengthwise) of the rectangle
Fold the dough in half down the long side --resulting in a 10 x 2 inch bar
"Mend" the seam so the bar is symmetrical
Repeat with 3 remaining parts of dough and filling
Transfer each bar to a parchment paper lined baking sheet; bake at 350° for 10-15 minutes
Allow to cool slightly; cut bar every 2 inches to form the fig newtons
Serve!
Alternatvie filling:
1 jar of favorite gluten free preserves (blend dates & pecans with 1TBSP oil)
I don't use dates if I use Strawberry preserves, the taste is weird to me!
Strawberry Love Bread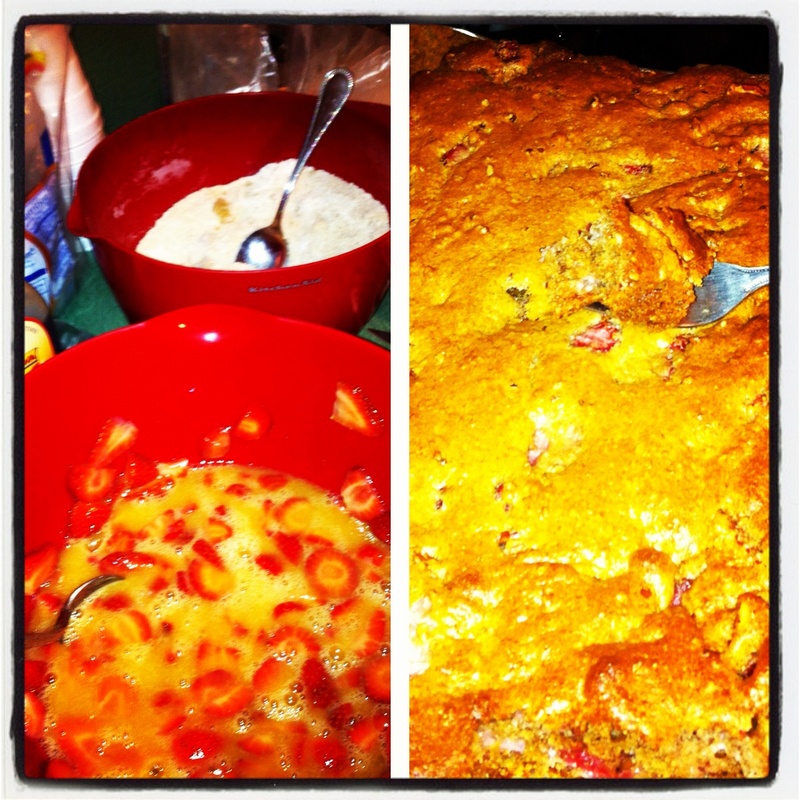 I love holidays! I embrace holidays.  They make me so very happy!  I had a bundle of strawberries and they are red and cherry and lovely.  Therefore, strawberry bread it was.  I hope you find comfort in this warm, delightfully tasty bread.
Ingredients
1- 16 oz  fresh strawberries (or 2 cups)
2 1/4 cups all purpose gluten free flour (I did 1 cup all-purpose gluten free & 1 1/4 cup almond flour
1/2 cup brown sugar (use this to sprinkle)
1-2 TBSP ground cinnamon
3/4 teaspoon salt
3/4 teaspoon baking soda
3/4 cup and 3 tablespoons oil
3 eggs, beaten
1/3 cup agave nectar
1/2 - 3/4 cup chopped pecans
Directions
Preheat oven to 350 degrees F (175 degrees C). Grease 7X13
Slice strawberries, and place in medium-sized bowl. Sprinkle lightly with brown sugar, and set aside while preparing bread mixture.
Combine flour, sugar, cinnamon, salt and baking soda in large bowl: mix well. Blend oil, eggs and agave nectar into strawberries. Add strawberry mixture to flour mixture, blending until dry ingredients are just moistened. Stir in pecans. Pour in prepared pan.
Bake for 45 to 50 minutes, or until tester inserted comes out clean. Let cool in pan for 10 minutes.
/